The Cavaliers are slightly past halfway through the season, rocking a 26-16 record, good for fifth in the East at the time of this writing. Considering how strong the Eastern Conference has been this year, fifth ain't shabby at all, and they are pretty much tied with the fourth seed Philadelphia 76ers and the third place Milwaukee Bucks. To be honest not too much has changed since the thirty game report, but let's dig in.
Things Staying the Same
Joshua Gunter/Cleveland.com
The Cavs still have one of the best defenses in the league, currently ranked second in defensive rating and first in points allowed per game. The offense is solid, of course in large part thanks to Mitchell. While they do rank 26th in points per game, that's mostly due to their slow pace, and they ranked 11th in offensive rating, good for a 4.9 net rating which ranks third. Unfortunately the Cavaliers have gone just 5-5 in their last ten, but it's nothing to be terribly worried about. They were competitive in each game, and lost to some pretty solid teams like the Indiana Pacers, Brooklyn Nets, Denver Nuggets and Utah Jazz, and one of those without Mitchell. Mitchell also had his weakest stretch as a Cavalier in their three game losing streak which was promptly followed up by one of the greatest nights in NBA history. Mitchell is still doing his thing carrying the offense, while Evan Mobley and Jarrett Allen lock it down on defense. Darius Garland could still improve his efficiency (he has had some injury issues), but as a second fiddle to Mitchell he's doing his job so far. 
Things Changing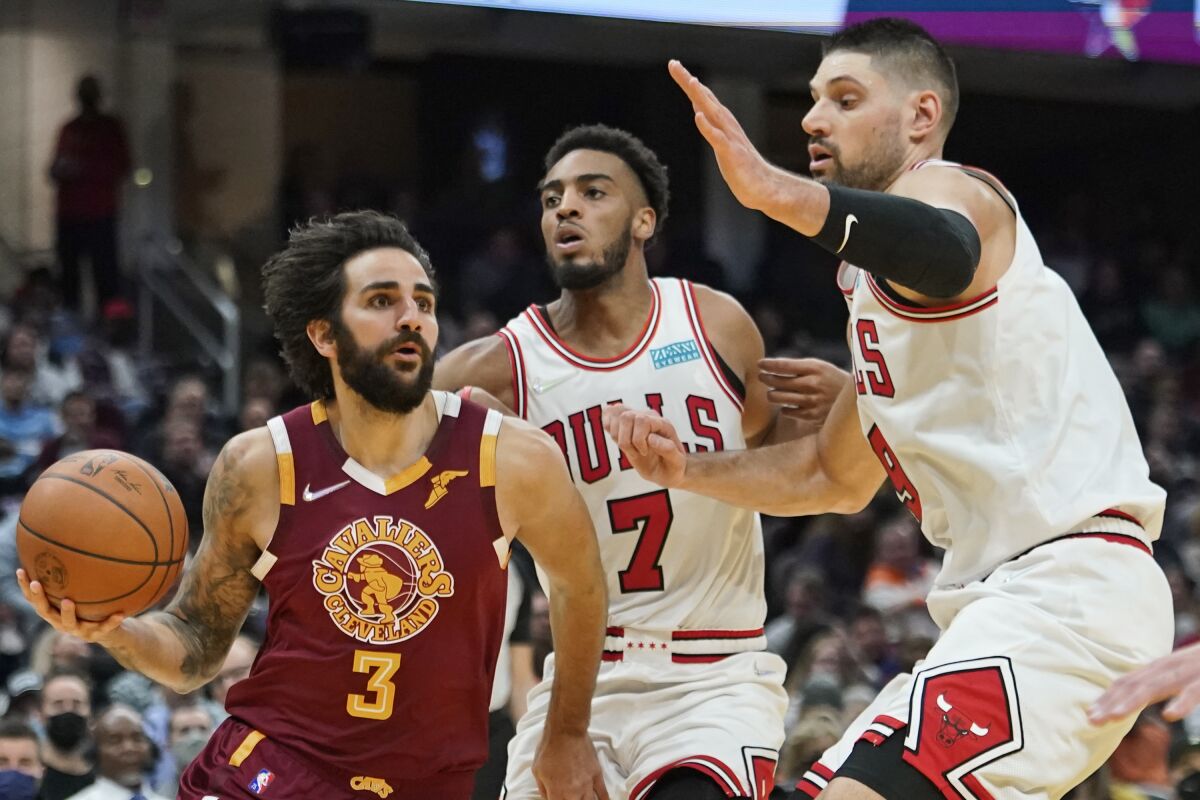 Tony Dejak/AP
The Cavaliers' search for a proper small forward continues. Throughout the season they've tried Dean Wade, Lamar Stevens, Caris LeVert and Isaac Okoro at the spot. Wade has been a near permanent fixture on the injury report and the LeVert experiment in the early season proved unideal. Stevens is a high hustle high energy scrapper, but ideally not really a starter on a championship team, while Okoro still cannot shoot or more broadly score in a consistent manner. He's been much better in the month of December and so far in January which is giving Cavs fans hopes again, but much better for Okoro right now means 6.2 points a game on 46/35/72 splits on low volume. 
The trade and buyout markets are therefore the hot topics for the Cavs, who would love to finally nail down that spot. In terms of tradable contracts Kevin Love's 28.9 million and Caris LeVert's 18.7 million are the two pieces that could really use moving. That being said, Love has become something of a fan favorite in Cleveland both by fans and the front office, and they want Love to return after his contract expires. LeVert really does seem like the odd man out here.
His game is too similar to Mitchell and Garland and is himself far too inconsistent. He has been a great replacement when one of the two gets hurt, but he's still a surplus, especially when Ricky Rubio comes back which should be very soon. It remains to be seen how well Rubio will play considering his older age and coming off a torn ACL, but he was brilliant last year in his half season.
In exchange for LeVert, names like Saddiq Bey, Tim Hardaway, Dorian Finney-Smith, Josh Richardson, Jae'Sean Tate and more have been put out, but there still isn't a perfect fit. Some of those guys are shooters with no defense or size (important with Mitchell and Garland being undersized), some of them can't shoot (important when playing Mobley and Allen together), and some are too expensive. 
Treading Water
Beyond Rubio's return and a potential trade for a new small forward, not much has changed with the Cavaliers, and not much is likely to change either. Getting healthier will help, but the Cavs have shown their quality and it's not too likely to be too different as the season goes on. The East is very tough this year, and besides Mitchell and Love this team doesn't have a ton of playoff experience. That's really the goal for this year, to get that experience, although Mitchell's heroics might take them far. There's no reason to make any panic moves with their core four still very young and three of them already locked down for the foreseeable future. They've done an amazing job so far, and it's exciting to remember that this isn't even their final form yet, not by a long shot.