Donovan Mitchell broke through his mini-slump in the most emphatic way possible on Monday. He scored 71 points and broke a laundry list of records as he willed the Cleveland Cavaliers to a victory over the Chicago Bulls, 143-133 in overtime. It was a virtuoso performance of sublime magnificence. Mitchell was a one-man wrecking crew, scoring in increasingly absurd and clutch ways as the game went on until history had no choice but to be made.
It's Not How You Start
What makes Mitchell's night even more incredible was how pedestrian he started it. He had just five points after the first quarter, which included a pair of missed free throws. It looked like another off-night for him, in the midst of his worst stretch as Cavalier. In the four games before this, he scored over 20 just once, and was shooting 33% from the field and 29% from three.
Considering he was scoring and shooting at all time levels up until that point, it's reasonable to wonder if he was finally coming back down to earth after his torrid start. With two of their best players in Darius Garland and Evan Mobley out, winning looked pretty grim for the Cavaliers. Turns out, Mitchell was just storing up his brilliance, letting it build and build, just to be unleashed in one of the greatest games ever played. Mitchell did manage to finish the first half with 16 points, which is nothing to scoff at. Although far from historic, this is very much how it ended.
It's How You Finish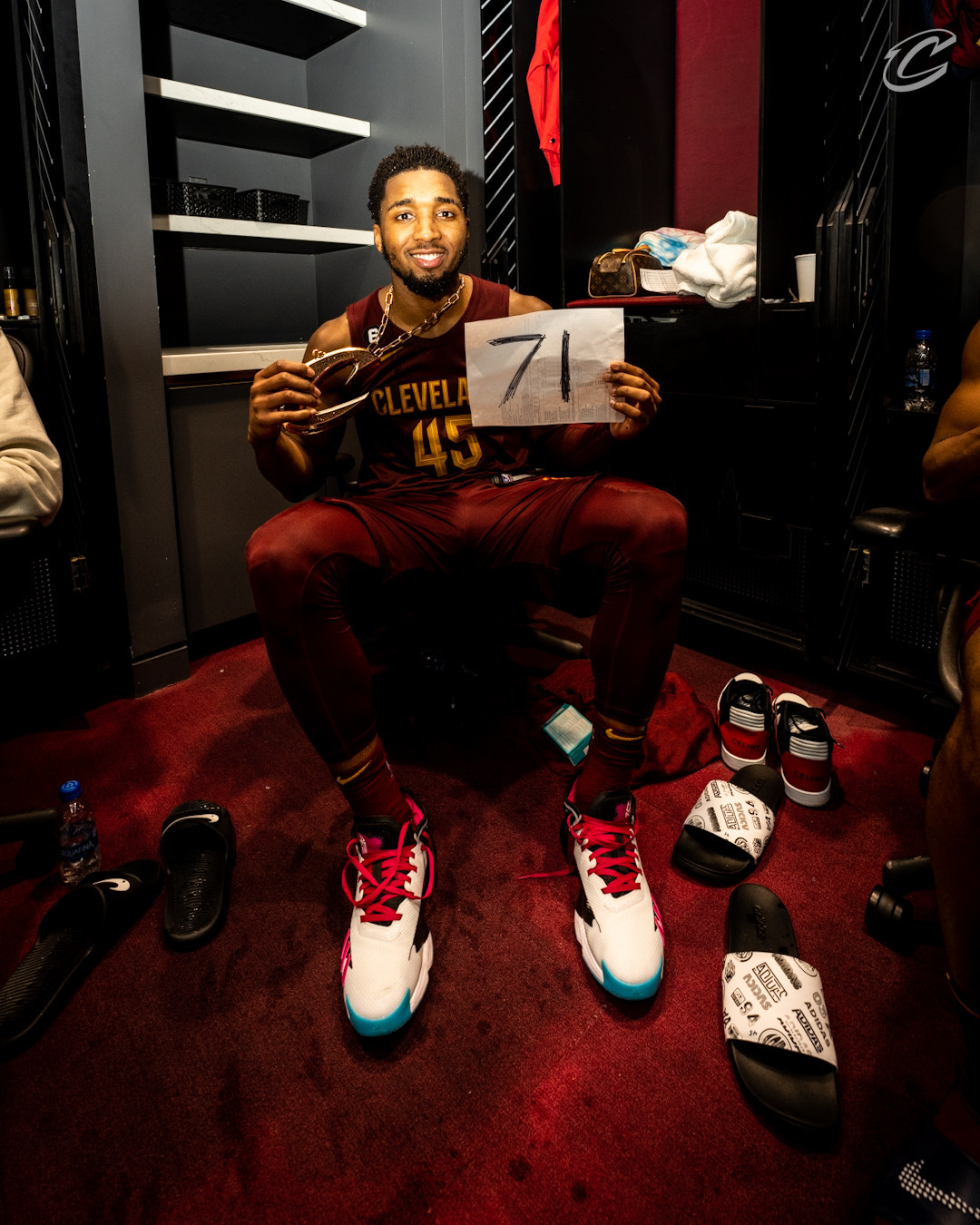 Cleveland Cavaliers on Twitter
Enough can't be said about Mitchell's second half and overtime. Scoring 55 in just that time was insane, and he was summarily unstoppable. Sure, he arguably had a friendly whistle (he shot 25 free throws, and made 20) but the level of shotmaking and scoring he displayed carrying  Cavaliers back into the game was still unparalleled.
Consider that the Cavaliers were down 18 at half, and got as bad as 21 down at one point. It really felt that he couldn't miss towards the end. As time grew shorter Mitchell got better. He scored or assisted on 15 points in the final five minutes, including the play of the game (Jarrett Allen was also instrumental, especially with his rebounding).
With four seconds left and down three points, the Bull's intentionally fouled Mitchell. He made the first, and intentionally missed the second, somehow grabbing his own rebound and flipping the ball up in the air as he fell, dropping in the tying bucket. After that, it was a wrap. Mitchell wouldn't be denied in OT, scoring 13 points including some unbelievable heat check threes that just added insult to injury. His full stat line was 49 minutes, 71 points, eight boards, 11 assists on 22/34 shooting, including 7/15 from three and 20/25 from the line. 
One of the Greatest Ever Played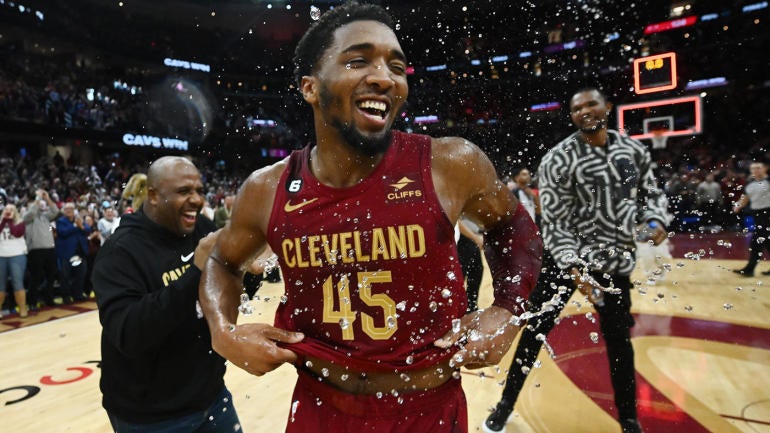 Ken Blaze/USA TODAY Sports
Of course, with a game like this multiple records were set. It would take a long time to list them all out, but here are a few of the most significant. Mitchell became the seventh player to score 70+ points in a game, and his 71 puts him tied-8th for the most in a game. He has the most points in Cavaliers history (over LeBron James and Kyrie Irving), and has the most points scored against the Bulls in a single game. Mitchell also became the first person to score 65+ and also have 10+ assists.
It's the highest scoring game since Kobe Bryant's 81 in 2006, surpassing Devin Booker's 70 in 2017. Five of the previous 11 70-point games were losses, so for Mitchell to carry his team to a win scoring like he did is not insignificant either. Mitchell's first season with the Cavs has already been a rousing success, and now he adds a game that will go down in the annals of NBA history as one of the greatest ever played.