The Los Angeles Chargers are in a special situation right now. They have a rising superstar in Justin Herbert, and have hired one of the best minds in the game in Brandon Staley as their head coach. Not to mention that the team flipped everything around this offseason. Especially with a new coaching staff at every position and both a new offensive and defensive scheme. But what makes this situation so special? For players who couldn't find their footing with the previous staff, they now have a breath of fresh air. Here are a list of players who should have a breakout year for the Chargers.
Jerry Tillery
Heading into his third season, Jerry Tillery has all the tools for a breakout year. Originally the Chargers first round pick in 2019, Tillery was selected to become a force in the interior. Unfortunately, that wasn't the case in his first two seasons.
However, there was a significant improvement from year one to year two. His tackle numbers went up from 17 to 30, sacks from two to three, QB hits from three to 14, pressures from nine to 22 and forced fumbles from zero to two. His major downside from last season was committing unnecessary penalties in crucial moments such as in four against the Tampa Bay Buccaneers. It was when he moved to the edge in Gus Bradley's 4-3 defense where he began to turn things around. Now, under Staley's 3-4 scheme, Tillery fits in perfectly at the line with his size, strength, length and speed.
Uchenna Nwosu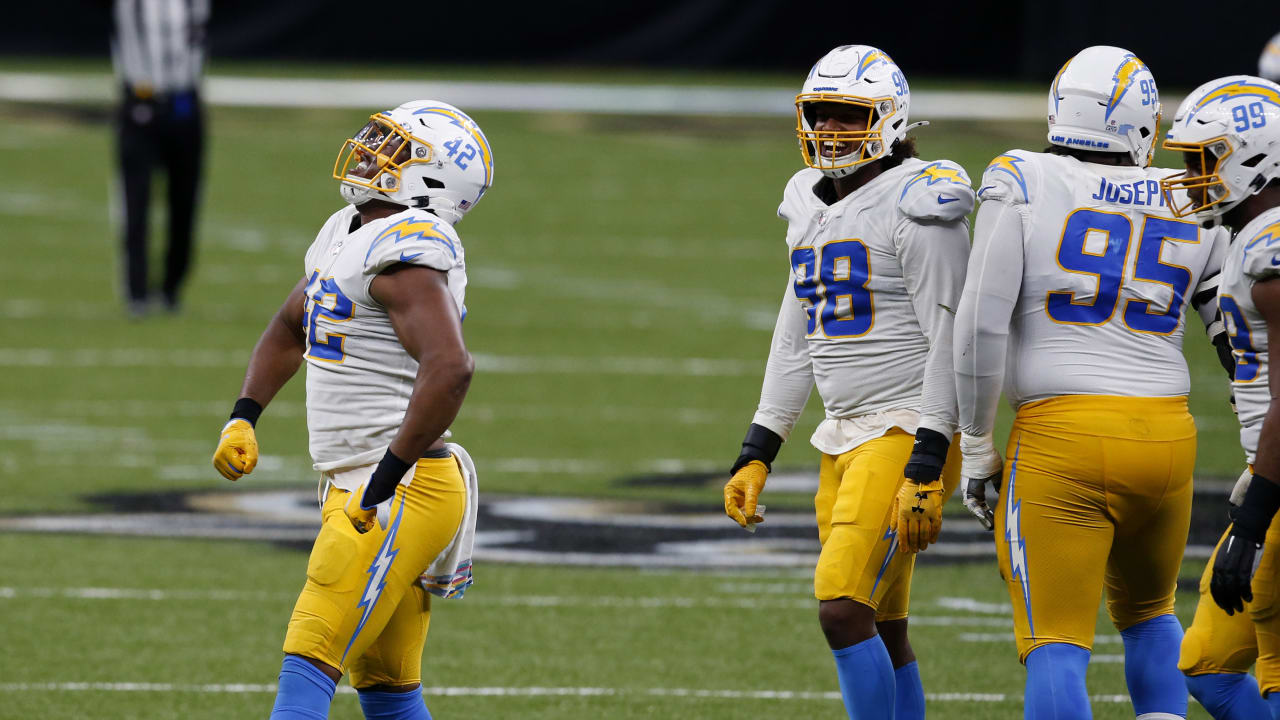 Uchenna Nwosu seemed to only be a rotational piece for the Chargers defense his first three seasons. With Melvin Ingram sidelined for the majority of last season, Nwosu made the best of his opportunity and became the Chargers second best pass rusher behind Joey Bosa. Fortunately for Uchenna, now that Ingram is no longer on the team, he should have a starting role as the Chargers' outside linebacker.
Heading into the 2021 season, Uchenna has a high ceiling especially under Brandon Staley's 3-4 scheme. Should he adapt and take his game to the next level, it would be a similar situation to Leonard Floyd's with the Rams last season. Nwosu is also set to be a free agent next offseason. With a big year, he could be up for a pay day.
Nasir Adderly
After not re-signing Rashawn Jenkins this offseason, it was clear what direction the Chargers are heading in. Jenkins had a great year with two interceptions, one sack, and 83 tackles. A reason why the Chargers may not have re-signed Jenkins can be that Staley didn't see him as a scheme fit or and rather see Adderly.
"He's our type of safety," Staley said. "He can see in the deep part of the field. He's smooth. He's got a lot of DB traits for us," Staley said. "We really think that he's a smooth athlete. We think he's going to be a good fit for how we want to play."
Unfortunately for Adderly, he had a subpar sophomore year for the Bolts after missing a majority of his rookie season due to injury. However, at times, Nasir did show flashes of his potential at the safety position; just not on a consistent basis. Staley seems to like the idea of having Nasir play the slot (Star) and fill a sub-package safety-linebacker hybrid role (Money).
Featured Articles
The Sacramento Kings are of the thirteen NBA and WNBA teams participating in Team...

Cavs' basketball is at its best when the team selflessly finds the best shot,...

A midseason coaching controversy, off the field conduct issues among different players, doubts among...

Now sitting in fifth place in the Western Conference, the Dallas Mavericks are one...