Including Zero Week a few weeks ago, we have already finished the first two weeks of the college football season. Most games have been blowouts while some of been a clash of ranked opponents. Nevertheless, in the blowouts and the nailbiters, a few players have stood out above the rest. The players listed below may not be on any "All-Week Teams", but they did enough to garner recognition otherwise. 
Image: Utah Tech Athletics
Quali Conley, RB, San Jose State
Quali Conley is not the featured back for the San Jose State Spartans. However, maybe he should be. Week 1 versus the USC Trojans, Conley totaled 108 yards from 6 rushing attempts with 17 yards through 2 receptions. After a big week in the Colisseum, it was expected for him to gain more touches. Although he did versus Oregon State the following week, his production declined resulting in only 34 yards on 11 attempts and 18 yards from 2 receptions. Still, this doesn't tell the whole story. Last weekend versus Oregon State, Conley found a groove early on when he was able to break free for an 18 yard gain; his longest of the day. Eventually, Oregon State said enough was enough and played how many expected them to against the Spartans. Nonetheless, Conley has benefited from a solid two weeks and people should look for him to continue to build from this as he'll play Cal Poly SLO this upcoming weekend.
Image: Duke Athletics
Tre Freeman, LB, Duke
Watching Duke's upset victory over Clemson, QB Riley Leonard and OT Graham Barton were the clear standouts. Still, you can't win without good defense. On the defensive side, Tre Freeman led the charge producing an excellent performance resulting in 11 total tackles, 3 solo and 8 assisted, and a pass breakup. He's a bit undersized listed at 6'0", but if he continues this kind of play, don't expect him to stay overlooked for long. 
Image: Buffalo Rumblings
Keon Coleman, WR, Florida State University
When you think of Florida State's offense this year, a few names that immediately come to mind may be QB Jordan Travis, TE Jaheim Bell, WR Johnny Wilson, or RB Trey Benson. Yet it was Michigan State transfer WR Keon Coleman who stood out above the rest. At the end of the day this guy is an athlete. He's big at 6'4" 215 lbs and is superb in jump ball situations thanks to his basketball background. In fact, Coleman even played for Tom Izzo at Michigan State in addition to football. Like I said, this guy is a pure athlete. He's big, fast, agile, and explosive. It's important to remember that this is just one game. But he put on quite the showing in that one game going for 122 yards on 9 receptions and 3 TDs.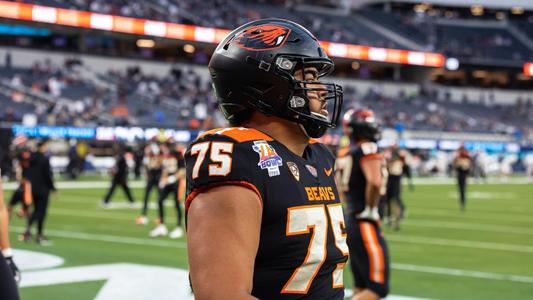 Image: Oregon State University Athletics
Taliese Fuaga, RT, Oregon State
Taliese Fuaga came into the season as one of the top tackle prospects in this upcoming year's draft. In my opinion, he only raised it this past weekend against San Jose State. Even though he was expected to dominate, he still exceeded my expectations. Against the Spartans, Fuaga displayed everything you want in a franchise right tackle. He came off the ball firing, was patient in his pass drop, and was powerful in the run game. It's still going to be a few weeks until he sees actual competition, but if last weekend was any indicator, he'll do just fine in the future. 
Image: University of Washington Athletics
Rome Odunze, WR, Washington
Rome Odunze, like Fuaga, is one of the top prospects at his position for this upcoming year's draft. So, you might be asking, why do I include these guys on this list? Well, at tackle and WR, there's no clearcut prospect who stands out after after the top guys are gone. With his performance last weekend versus Tulsa, Odunze made a solid case as to why he should be WR2. Going for 132 yards on 7 receptions with a TD, Odunze showed almost everything you want out of a top receiver. He was able to get open versus different coverages displaying not only his football IQ, but the different speeds he can play at. Keep an eye out for Odunze to steadily rise draft boards throughout the season.
For more football content click here.