The NFL released the upcoming 2021 season schedule for all 32 teams Wednesday evening. For the Los Angeles Chargers there is optimism after an offseason of change. For starters, the Chargers have reigning Offensive Rookie of the Year Justin Herbert to lead the way. After a terrific rookie campaign all eyes are on the young star to see his growth. Not to mention making a head coaching change in hiring former LA Rams defensive coordinator Brandon Staley. In addition, LA also made splashes in both free agency and the draft, assessing major holes in the roster. Although this team is still a work in progress, there are games in this year's schedule that will show what kind of team they truly are.
Season Opener VS Washington
The first game of the season is always an important one due to the fact that it's the commencement of the new NFL year. However this game has one particular matchup that makes this an exciting one. First round draft pick Rashawn Slater vs reigning defensive rookie of the year Chase Young. These two have history as they went head to head against each other back in college where Slater erased Young when lined up against one another not allowing a sack. This was highly impressive as Young was an elite defensive end during his time at Ohio St while not many knew of Slater at the time. Fast forward two years and now they are facing each other once again in the NFL.
Monday Night Matchup vs Las Vegas
You know it's always something special when it's Raiders week and week four should be nothing different. In a primetime Monday night game against Las Vegas there are a few storylines involved. To begin with, former defensive coordinator Gus Bradley joined Jon Gruden's staff following his firing in Los Angeles. In a complete overhaul of the former staff, Casey Hayward was another former employee who was cut by the Chargers this offseason and joined Las Vegas. Not to mention that the Raiders should still have a bitter taste in their mouths after losing to the Chargers at home in a primetime Thursday night game in overtime. Look for the Raiders to play with aggression in hopes of a revenge victory.
Kansas City Matchups
It's always a treat for fans when two gunslingers duke it out. In the AFC West, we can expect a lot of those type of games when it comes to Herbert vs Patrick Mahomes. If last season taught us anything it's that these two will have a great rivalry for years to come. Herbert's first career start came against the Kansas City Chiefs after a freak accident occurred to former starter Tyrod Taylor. Herbert went on to throw for 311 yards and a score in his impressive debut against the defending the champs. Since then, the Chargers never looked back and Herbert earned the starting nod.
Now after having a full season to learn Herbert's tendencies, look for Kansas City to be more aggressive in defending against him. However, when KC comes to town on Thursday night in week 14, playoff implications may be involved. This should be match ups full of excitement and entertainment for all fans.
Week 6 vs Baltimore
The last time the Chargers faced off against the Baltimore Ravens came in a wild card victory back in 2019. At the time Philip Rivers was still the starting quarterback and Lamar Jackson was a rookie. Fast forward two years, Rivers is no longer in the NFL and Lamar has an MVP award and a playoff win to his name. Furthermore this is another duel between two QBs who have bright futures in the league. Moreover this is another matchup between two Florida natives in Jackson and Derwin James. Both have history competing one another since their college days as well as the playoff matchup. Should the stars align, this could be future playoff matchup down the road.
Week 7 vs New England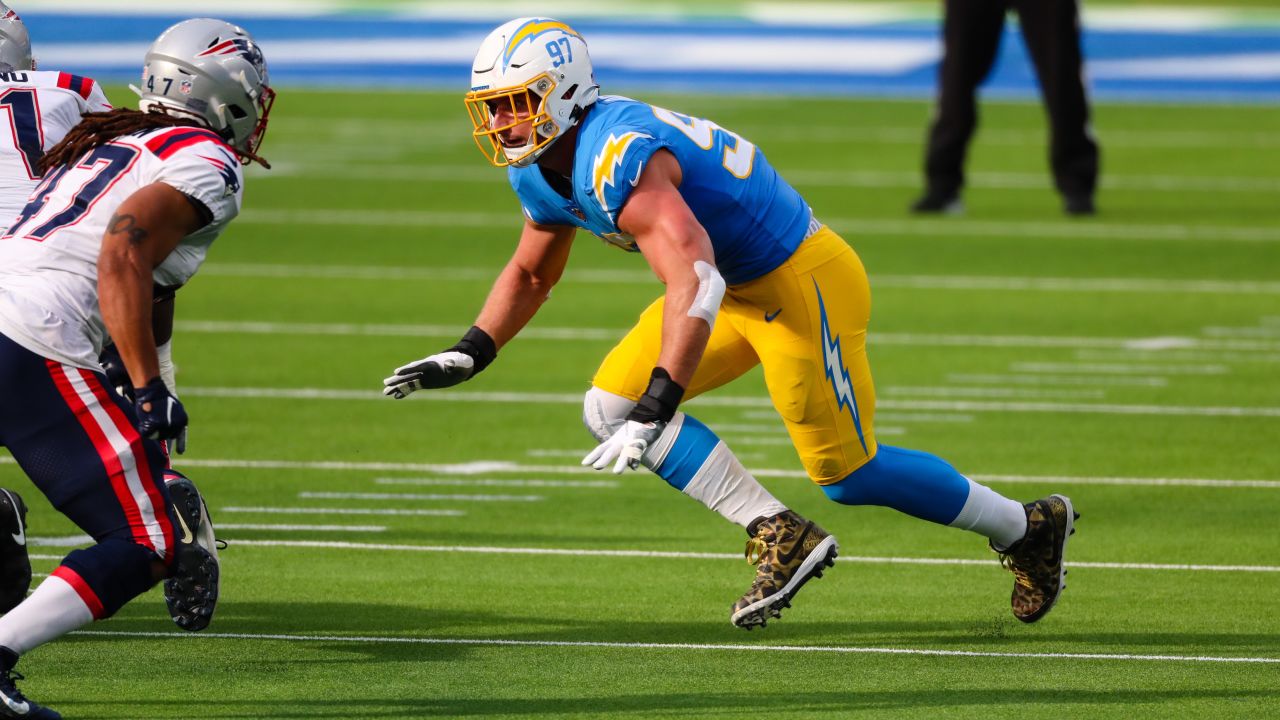 This is game should be circled in the schedule for the simple fact of revenge. Last season the New England Patriots came into Los Angeles and steam rolled the Chargers 45-0. This was a horrible game on all three phases of the ball. This occurred most specifically in the run game as New England ran for 165 yards ignoring the passing game almost entirely. Bill Belichick also had a game plan to make Herbert uncomfortable and that is exactly what occurred. Defeating the Patriots in Gillette Stadium would be the perfect revenge game for last seasons domination. Especially because it would be the first time since 2008 the Chargers are to beat the Patriots.
Week 10 vs Pittsburg (SNF)
SUNDAY NIGHT FOOTBALL!!! Do I have to say anything else? The Los Angeles Chargers going up against the Pittsburg Steelers is a primetime matchup that should have many eyes. The young up and coming Herbert facing off Ben Roethlisberger for the first time. This is important because this is the first time time Big Ben will face off against the Chargers without his draft mate Philip Rivers being on the opposite sideline of him since 2005. This has all the signs pointing towards a ceremonial passing of the torch from generation to generation. Not to mention that Matt Feiler will face off against his former team. Feiler joined the Chargers this past offseason after spending five seasons in Pittsburg.
Featured Articles
The Sacramento Kings are of the thirteen NBA and WNBA teams participating in Team...

Cavs' basketball is at its best when the team selflessly finds the best shot,...

A midseason coaching controversy, off the field conduct issues among different players, doubts among...

Now sitting in fifth place in the Western Conference, the Dallas Mavericks are one...